Salon Benefits
The CLICS system elevates salon hair color performance on so many levels.

Inventory Management
CLICS manages and replenishes hair color inventory automatically. Say goodbye to counting tubes, and hello to just-in-time inventory delivered to your doorstep.

Waste Reduction
The CLICS dispenser measures hair color with precision – no more wasted color that hurts the environment, and your wallet.

Improved Service Quality
Experience confidence in formulation with precise and repeatable hair color dispensing.

Expanded Color Choice
Using a mixable suite of colors and the CLICS color lab, stylists experience a range of creativity they never had before.

Comprehensive Education
Get inspired and expand your color knowledge, creativity and confidence with our wide array of CLICS educational offerings.

Ecology Focused
Go green! CLICS hair color comes in recyclable canisters that help save the planet.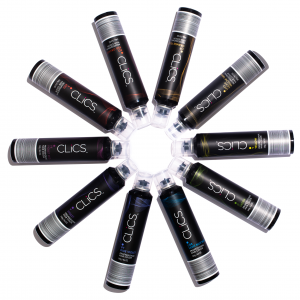 Dynamic Hair Color
22 VIBRANT SHADES

plus additives & developers

AMMONIA-FREE

, eco-friendly formula

SOOTHING LEMONGRASS SCENT

EXCELLENT GRAY COVERAGE

that lasts

Formulate OPAQUE OR TRANSLUCENT COVERAGE

with ease

MIXES EFFORTLESSLY