July 2020
CLICS Featured in Salon Today
The CLICS dispenser is featured for its ability to accurately dispense hair color allowing stylists to prevent waste in Salon Today's July 2020 issue.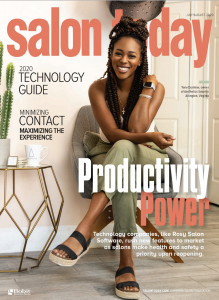 February 2019
CLICS Featured in Beauty Launchpad Feb 2019
The CLICS dispenser and hair color received features in Beauty Launchpad Magazine's February 2019 issue.
December 2018
CLICS Named 2019 Best Bet by Beauty Launchpad
CLICS has been chosen by Beauty Launchpad Magazine as one of the products most likely to be adopted by salons in 2019!
July 2018
CLICS Awarded 2018 Trendsetter by Cosmoprof
CLICS recently unveiled its revolutionary new hair color ecosystem at Cosmoprof, the largest beauty trade show in North America, featuring forward-thinking technologies and products in the beauty space.
Influencers and Trendscouts at Cosmoprof picked CLICS out of 1278 exhibitors to win a coveted Trendsetter Award! Only 2% of exhibitors were awarded for their products, and CLICS was one of them!